3Dfx
Jump to navigation
Jump to search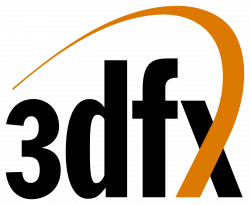 3Dfx was the beginning of high end graphics cards that has the ability to enhance 3D rendering. The Glide API was dedicated to gaming with features designed to support 3D geometry, basic texture mapping, and higher resolution. The first cards were daughter cards that had to run in tandem with a standard video card, as they could only handle 3D rendering.


Voodoo Graphics
Introduced in 1996, the Voodoo brought early 3D GPU support to the MS-DOS platform. A typical Voodoo Graphics PCI expansion card consisted of a DAC, a frame buffer processor and a texture mapping unit, along with 4 MB of EDO DRAM. The RAM and graphics processors operated at 50 MHz. It provided only 3D acceleration and as such the computer also needed a traditional video controller for conventional 2D software.[1]
DOSBox Emulation of 3Dfx
3Dfx has been available in DOSBox for several years, however support has always been a little spotty. This is partly due to the CPU power needed to emulate the card, however it is also due to the less then perfect 3Dfx patches that developers released for their games.
3Dfx Enabled Games  
Game Name
Archimedean Dynasty
Battle Arena Toshinden
Blood
Burnout: Championship Drag Racing - Player's Choice Edition
Carmageddon: MaxPack
Dreams to Reality
EF 2000: Special Edition
Elder Scrolls Adventures, The: Redguard
Extreme Assault
Furcol
Grand Theft Auto
JetFighter III Classic
JetFighter: Full Burn
Lands of Lore: Guardians of Destiny
NASCAR Racing 2
Pyl
Screamer 2
Screamer Rally
Shadow Warrior
Star Fighter
Tie Break Tenis 98'
Tomb Raider: Gold
UEFA Champions League 1996/97
VR Soccer '96
Whiplash
XCar: Experimental Racing
References