EXOScummVM
Jump to navigation
Jump to search
eXoScummVM
Project Description
ScummVM is an opensource application which runs the data files from many popular 2D adventure & RPG games across many platforms. For a complete list of platforms ScummVM runs on, please visit the download page at www.scummvm.org.
This project is a collection of games supported by ScummVM release 2.2.0 as well as several games currently in testing with the latest daily build. Within the front end, games have been sorted into two platforms. ScummVM & ScummVM SVN. SVN titles may exhibit bugs or other undesired behavior. In future releases, SVN games will be promoted as they become more stable.
Each game entry in the front end represents all included versions of that game. When you install and run a game, you will be asked which platform you wish to play it on. Certain platforms will then have further options such as soundcard, color depth, enhanced soundtracks, and other improvements.
There are 387 unique titles in this collection, with hundreds of variations by platform. Currently this pack focuses on English releases. A future release will bring in alternate languages.
eXoScummVM r2.2.0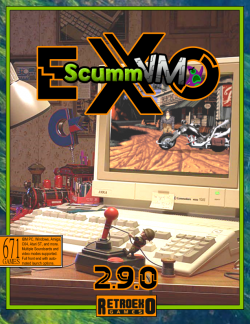 Spearheaded by Python, this release introduces a LaunchBox full front end with metadata (manuals, scans, extras) along with launch files that give the user the ability to choose any supported combination of platform and sound types. Multilanguage files have been dropped from this release, however they will return in the next version with a menu system for selecting language.
The list of added games is quite long as ScummVM has recently introduced support for a dozen or so adventure game engines, some of which have hundreds of supported titles (mostly fanmade interactive fiction). While these will eventually be added, the focus has been on commercially released titles as well as those which feature actual graphics. Unfortunately there is not a specific list of added games & fixes this time due to the massive shift in the way things have been handled.
One of the larger changes is the merger of ScummVM & ResidualVM. This brings in 3D engine games such as Myst 3, Grim Fandango, Escape from Monkey Island, and The Longest Journey.
The games have been split into two "platforms" within LaunchBox. Stable games are under ScummVM, while those that play but are still not fully implemented are in the ScummVM SVN platform.
A key benefit to eXoScummVM is having a single launch file per unique game title. This file allows the user to select which supported platform they wish to try. Depending on game compatibility, the user is then able to choose available video modes or sound card options.
Core Modules
Installer
Launcher
Launchbox Plugin
ScummVM

Metadata
Images
LaunchBox Platform XML
Manuals
Music
Plugins
Video Snaps

eXoScummVM Release 2.?.0 (Upcoming)
Releases will generally coincide with stable ScummVM releases. On October 9th, 2021 ScummVM 2.5.0 was released, details of which can be read here. As time with other projects permits, the eXoScummVM project will be updated to a recent release.
Links