eXoDOS
Jump to navigation
Jump to search
eXoDOS
Project Description
eXoDOS is an attempt to catalog, obtain, and make playable every game developed for the MS-DOS and PC Booter platforms. We strive to find original media rather than using scene rips or hacks. This collection uses DOSBox to allow these older games to play on modern systems. Games supported by ScummVM give the user a choice between emulators. All required emulators are included and have been setup to run all included titles with no prior knowledge or experience required on the users part.
eXoDOS Version 5 includes 7,200 DOS games. The focus is on games that were either released in English or are fairly easy to play without a knowledge of the native language. This is not every DOS game ever made, however it is a very high percentage of all commercial releases. There are thousands of freeware, homebrew, and shareware games that will continue to be added in future packs.
Preservation through Playability
A core tenant to the eXo projects is preservation through playability. This simply means that by making games playable and presenting them in an easy to access format, this in turn encourages preservation by virtue of the number of people who acquire the project.
Due to the fragile nature of magnetic floppy disks and early hard drives, data stored to these media types 1980's and even the 1990's is becoming scarce. Less than 3% of all commercial MS-DOS games are being made available in any form by their rights holder. In many cases, the games are are being made available have been stripped down and modified to run on modern machines. Video & sound drivers and even setup utilities are often removed. The goal of this project is to provide the original media
eXoDOS Version 5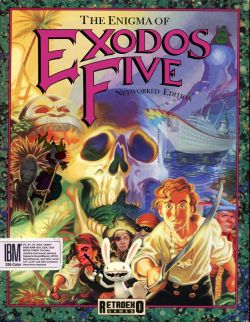 Additions
Download on Demand: A 'lite' version of the project that just contains metadata. Games are downloaded the first time you try to run them.
IPX\Serial Networking: Easy host and join multiplayer games. Scripts auto start\open your virtual ports and describe exactly what steps each game requires to lay in multiplayer. Play over 300 games with your friends!
eXoDOS Updater: Download and auto-apply updates to your eXoDOS collection without having to wait until the next release.
Magazine Preservation: Browse print & digital magazines from the DOS era
Filter by Installed Games: A custom plugin that dynamically updates a playlist in LaunchBox each time a game gets installed or uninstalled
Massive Manual Upgrades: Hundreds of missing manuals have been added or improved and we've added countless missing extra files.
Gold Box Companion Support: D&D Goldbox games can now be launched with the GB Companion app, which features automapping and other great tools.
New Folder Structure: All project files now reside under an "eXo" folder, with individual folders for each project under that. This will allow Win3eXo, and other future projects, to easy plug in with eXoDOS.
Modified Launch & Install Files: Files are no longer individually coded to launch a specific game. They now figure out what game will be launched to seeing what folder they were run from. While this doesn't directly affect users much, it makes maintaining the collection much easier.
Alternate Names: Games now have regional names added to their LaunchBox entry. This allows you to search whatever name you are familiar with, and still find it listed in the database. eg: Searching Broken Sword will now bring up Circle of Blood.
Bug Squash-a-rama!: A new GitHub now tracks all bugs, which has increased productivity on that front.
Over 200 new games
New Shaders: Enjoy shaders which emulate the look and feel of an original monitor with curvature and scanlines.
Core Modules
Installer
Launcher
DOSBox Configuration File
Updater
Downloader
Launchbox Plugin
DOSBox
ScummVM

eXoDOS Specific Modules
Multiplayer
All-Seeing Eye
Gold Box Companion
Ultimapper 5

Metadata
Images
LaunchBox Platform XML
Manuals
Music
Plugins
Video Snaps

eXoDOS Version 6 (Upcoming)
New Features
Universal Game Options - Full screen vs Windowed, window resolution, and aspect ratio preferences are now stored in a single conf file and applied at launch. When you run the config (either at setup or when running install for a game), it will read these values and report them to you. When making a change now, it simply changes one file, instead of going in and changing over 7,000 files. This is much quicker and makes it easier for users to customize the pack with their own settings in the options.conf file.
Universal Launcher - All games now have a very short batch file that points to a single launch file. This means any changes to the way games launch only need to be made a single time in a single place. An exception.bat file was added to account for games which have special options. The existence of this file auto diverts from the primary launcher. The big win here is the ability to make changes in a single file that benefit every game.
DOSBox Index - This goes hand in hand with the universal launcher. Now, at launch, it checks a file called dosbox.txt that resides in the util folder. This file contains every single game, along with which version of dosbox it calls. If you want to use a different version of dosbox, you simply replace the existing dosbox calls with the ones of your choice rather than having to edit thousands of individual launch files.
Multiplayer Index - Similar to the DOS Index, any game that exists on this list is treated as a multiplayer game, which means the ip.bat will run and generate your WAN and LAN IP's addresses in order to provide them for the host.
Focused Collections - eXoWAD and eXoZZT take the best user created maps\worlds\conversions and present them automated and ready to play. This is in addition to the pre-existing Unlimited Adventures work that added hundreds of user created worlds to that title.
Links